A simple search on the Internet and you can get a long list of blogging tools that can serve all kinds of blogging needs. That being said, when it comes to WordPress blogs and sites, you will also get a range of options from different service providers. Amongst such options, Google offers a wide range of blogging tools that are really useful for a multitude of blogging purposes.
Bloggers and webmasters all across the world make use of Google blogging tools to improve website's SEO, enhance productivity, earn greater revenues, and for a variety of other purposes. In this article, we will discuss in detail about the must have online Google blogging tools that can be really useful for WordPress (actually all) bloggers.
What are Google Blogging Tools?
Creating content that is awesome and creative is on the cards for you. You are capable of coming up with unique and innovative ideas for content to publish that is likely to engage the readers. But, what is stopping you? If you are still wondering how to start with a new venture, blogging is the best option.
Blogging in WordPress is one of the easy options to grab attention and help the readers share your content with their friends, family and colleagues.. Thus, it will help you to reach your potential goal. But, here is something that you must know!
Blogging is much easier when we use the best blogging tools from Google. These tools help you plan, ideate, strategize, analyze, monetize, and monitor your blog. So, if your mind is brimming with ideas, here is what you must do without wasting time, and start converting your ideas into engaging content.
With the help of such tools, you will reach many audiences, attract people to view your art, passion or know about your business. It sounds great, right? So, let's dig deeper to understand the top google blogging tools and make optimum usage.
How to make the best out of Google Blogging Tools?
Blogging is the key to reaching a larger audience with your business content. It is an interesting space to open up your mind, share your ideas, contents and attract more people to your website. Many bloggers live their dream lifestyle through writing, promoting content, and building a strong social network community. But none of them has become successful bloggers in a day. It takes the right amount of effort, time-managing blogging tools, the perfect amount of research, etc., to achieve the goal.
These best blogging tools from Google assist you in this journey of becoming a productive and successful blogger. As a professional blogger, you might not have the proper amount of time to cater to each task on your list. This is where Google Blogging Tools play a vital role. They save the time required for your research, uncover new topics, decode your competitors, and review trends. Blogging tools help you to work faster and increase the efficiency of your work. They make sure your blog is covered by more readers and clients while setting a high margin of content quality.
To get the most out of them, you need to understand their purpose and use them appropriately. Each blogging tool has different benefits that will make your work easier and faster. Blogging tools will let you know what's in trend, your site analytics, ranking, storing your content, increasing their engagement, and flourishing more. Here, we will discuss the best blogging tools by Google that are tremendously useful, easy to access, and the perfect tool to cater to your needs.
Question Hub helps bloggers to create rich content by putting forward unanswered questions. Question Hub collects questions that are unanswered from users and puts them before bloggers to fill the gap. It helps bloggers, writers, and content creators to create interesting and engaging unique content. Writers, bloggers, and experts study these subject matters and produce the required content with unanswered questions. This is a very tricky way to gain more audience without exhausting yourself by thinking about new content. Just sign up for Google Question Hub with your existing Gmail account and get working.
Google has introduced the manual tagging feature to Google's photos app. By using this feature, you will be able to tag faces in your photos. Remember that Google's algorithm will not be able to tag any face. Previously, the tagging feature was automatic, but now it has become manual. This feature is essential as it helps you keep a proper record of the face tags you want personally.
3. Google Searches "Related to"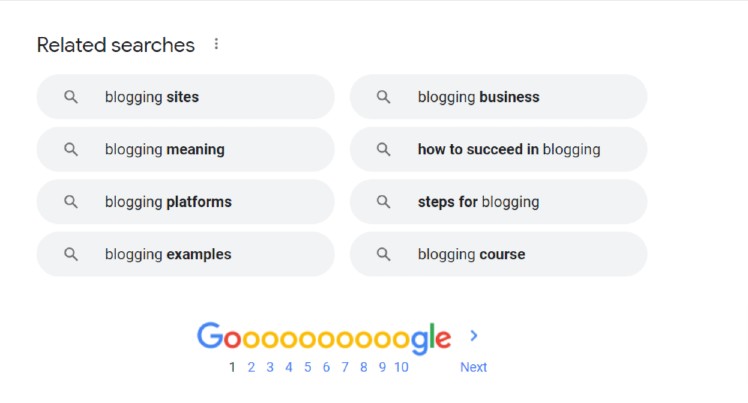 Trending keywords bring a lot of engagement and audience. It gets more light to your blog. A simple Google search can be a great way to find some really useful and relevant low-competition long tail keywords.
All you have to do is simply search for a broad topic or keyword of your choice. You will find a number of related terms featured in a section that says "Searches related to" at the end of the first page of results. You can compare multiple search terms, time ranges, places and check for the related top searches. This will help in your content creation a lot.
Google's 'People Also Ask' is a box with a direct answer. It belongs to the Google SERP feature that answers questions according to the searchers' query. The feature answers are verified and from trusted entities. It can be on a person, review, event, website, etc. Google will provide you a link that will direct you to the source below. The People Also Ask box use a natural language processing algorithm and identify the queries in a content . These questions will appear in a specific section in the search result page. The section also features other similar and related questions asked by users and their answers from other blogs or websites.
5. Google Autocomplete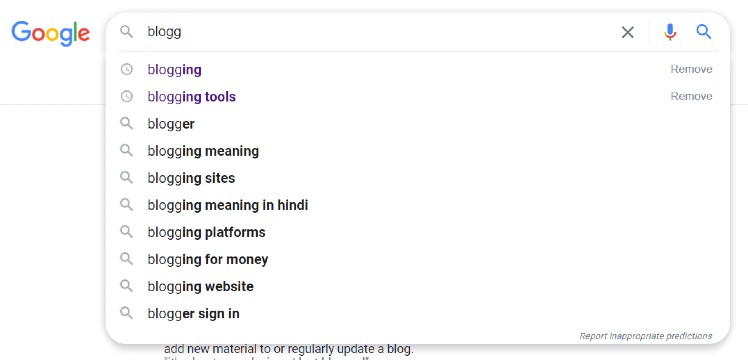 Google's Autocomplete feature was built to help users complete a search they were intending to do without having to type the entire thing out. When you start typing in the search box of Google, the algorithm predicts the possible search queries and shows you a drop-down list containing related words and phrases. The search predictions are based on various factors that include popularity and freshness, of the terms you type. These are the best predictions of the query you would have possibly typed in the search box.
Autocomplete was not designed to suggest new types of searches that can be performed. It shows predictions that reflect searches that have been previously done on Google. It contains the common and trending queries matching with the terms that a user enters in the Google search box.
Curious about what readers are searching for? Google Ads Keyword Planner is here with all your answers. Google Ads offers you insights on all the keyword searches , along with a planner tool. You can use this keyword planner tool to generate a list of keywords related to your blog post. You can then look for the phrases which are frequently searched and analyze their intent to ideate your blog topics.
The keyword planner tool will also help you with new blog post ideas and plan new content strategies. Additionally, it allows you to run advertising campaigns for your blog posts.
If you are looking for insights into the search, then Google Insights is right there for you. You can also find how your search queries and keywords trend over time. Google Trends can be a really useful and effective tool for this purpose. With the help of this tool from Google, you can survey and collect some really essential data needed for your venture. Google Trend allows you to analyze the popularity of top Google search queries across different regions and languages all around the globe.
All you need to do is enter your desired search keyword. Google Trends will help you to compare the different relevant keywords and see how trending they are along with the changes in trends over time. You can find out if and when a certain keyword is at peak popularity and when it is no longer relevant in a particular field. It allows filtering based on geographic regions and subregions which helps narrow down your search when you need local data.
The tool is really helpful for the preparation of fresh content. You won't have to waste much time thinking about new ideas. Google Trends will always provide you with the latest, appropriate and most relevant topics to cover.
Pro Tip: Use of Google Correlate and Google Consumers

For further improvisation when you are already informed about keyword trends, you can make use of another tool from Google, which is Google Correlate. You can use it to search for keywords based on the patterns you already know and then find other relevant keywords and information about your target audience. The tool enables you to find related terms people frequently search.

Google Consumers is another tool that offers insights into user demographics, monthly searches, and market trends based on the products and services you are marketing. It helps you to figure out the key areas to focus your marketing efforts on.
If you are blogging in WordPress or any other platform, you need a search tool for your blog as the default search function for most of the blogging platforms is somewhat limited. Your blog must be full of content, data, statistics, information; hence giving users a proper search tool will charm your readers.
In case you are using WordPress, you have two options. You could either use a premium WordPress search plugin for your blog, or you may use Google's custom search in your WordPress site. The idea of adding Google's custom search is more flexible as it will let you customize according to your website design preferences. Simply follow the instructions provided when you will add Google's custom search to your WordPress site.
One of the most preferred analytics tools for website owners, bloggers, and ecommerce stores is Google Analytics. It helps to track and report traffic for your blog..
It is the most comprehensive analytics tool for bloggers and website owners that gives you information about how your visitors found your website, what they are mostly looking and searching for, and your interaction with your site. This information is very significant. They will help you in planning and executing a proper content strategy. It will cater to the needs of your audience and help you achieve your business goal at the same time.
Every blogger and website owner gets curious at one point thinking about how Google sees their website? Google Search Console (formerly Webmaster Tools) will be your savior at this point. Google Search console can troubleshoot your website's presence in the Google search results. This comprehensive set of tools will help you to improve your blog search rankings. Here, you will get to know the keywords from your blog ranking better , the most clicked keywords, click-through-ratio, impressions, countries etc. You can easily maintain, monitor the visibility of your blog and make it shine.
Google can discover and index your blog better if you submit the XML sitemap to Google. Every time there is a problem indexing content from your blog, Google will send you notifications. Besides showing errors and warnings, Google gives suggestions to resolve those problems. This type of information and warnings are very important for bloggers. It makes your work easier and hassle-free.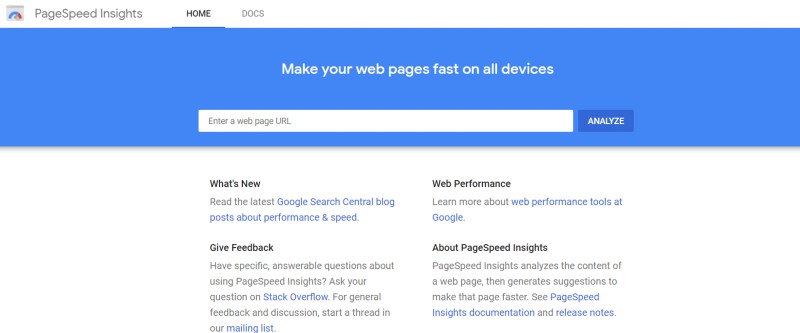 One of the most significant factors in SEO and user experience is speed. Page Speed Insights, developed by Google, helps blog and website owners analyze the core web vitals and speed issues. . It will also guide you on the improvements you require on your site. You can view the results for both desktop and mobile, both lab and field data.. The lab data is beneficial for debugging performances. It is generally collected in a more controlled environment.
Page Speed insights have different sections that will show how other resources and practices are decreasing your website's loading speed. You may also use caching plugins like WP Super Cache or W3 Total Cache, install the MaxCDN, to boost your blog performance.
Every successful blogger prefers using multiple tracking tools and analytics solutions to improve their blogging site. You need to add custom code to your WordPress site for these tools to work. The custom code snippets will help in loading an external script. You do not need to manage all the scripts.
Google Tag Manager allows you to manage many JavaScript tracking codes or Tags on your site. One of those tags is the Google Analytics tracking code. Google Tag Manager will help you in managing all those external codes from a single dashboard. It will provide the required reports. It sends data from your blogging site to third party analytics tools.
Google has been putting efforts to make the mobile user experience more efficient as most of the search traffic comes from mobile phones. Mobile phones are very handy devices, and many people prefer working on them from remote areas. The Mobile-Friendly tool helps you to check your blog for mobile readiness. Any WordPress site owner can make their blogs mobile friendly by utilizing a responsive WordPress theme. You can also make your website mobile-friendly without changing the WordPress theme. All you need is a plugin like WPtouch Pro to make your WordPress sites mobile-friendly even after keeping the theme intact.
You will get a range of productive apps from Google for both desktop and mobile uses. Google Docs, Slides, Sheets, Forms, Gmail, etc., will serve your blogging purposes. The best part of using Google's app is maintaining your privacy while sharing it on the web. You will have smooth sharing, inline comments, unlimited revisions, collaborations, and you do not even need to hit the save button.
Google's Calendar helps you in marking important dates, updating work for your team, letting them know when you are available, creating content, etc. Google Sheets will help you achieve many things like weekly timesheets, expense reports, to-do lists, travel plans, monthly and annual budgets, financial statements, team roasters, invoices, and many more.
There are two options, Google Apps for Work and personal uses. You may opt for the Google Apps for Work if you want your own branded email accounts and integrated apps for your own business. If you are consistently blogging and maintaining a content calendar , these tools will help you plan and manage content scheduling and publishing effectively.
Google My Business lets you add information in Google hassle-free. Whenever a user searches for it, Google will display the business information. Besides basic information, Google will also show your business across different Google products like Google Places, Google Maps, locations, etc. It is a must-have tool for people with a local business. You will get free advertising from Google along with this too.
Whether you have an online business or a website for your physical store, Google My Business will surely make your business marketing efforts more convenient, effective and efficient. It will increase your brand's visibility and bring more potential leads and clients. Have you created your Google My Business account? If not, then do not waste a single minute and do it now to flourish your business.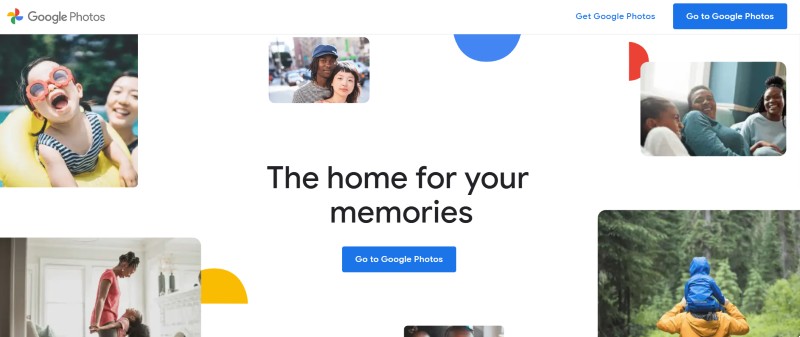 Need free unlimited storage for your blog images? Google Photos will serve you the best. All of us fear losing important photos, mostly the ones related to our work and business. Even if you lose them from your device, Google Photos will have them stored. All you need is to log in with your existing Gmail account and have them back. If you want to retain the photos in original quality, then use your Google Drive. Just pay $1.99 a month and get 100GB permanent storage.
Google Photos will never delete your pictures until and unless you want to remove them to trash. The photos are automatically uploaded to the cloud. You can download the images from there or share them. And the best part is you can do it from any device with your same Google account.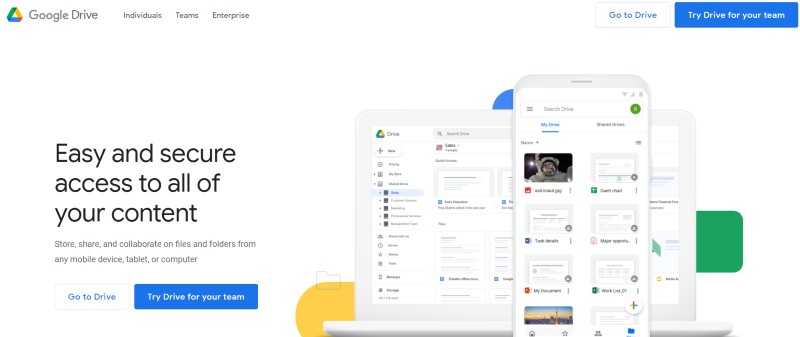 It is important to have a safe space to store all your private folders, documents, files, and images of your business. You can keep all of them along with your Google Docs files in your Google Drive. It is also the best place to store your WordPress backup. Your Google account comes with 165GB of free online storage. You can store any files, photos you want and share them across your other devices in this space. You may connect it with the WordPress media library for easy sharing of files. If you require more space, you may buy it anytime. Google Drive costs 100GB extra storage for $1.99 a month.
You must be curious when you or your brand name is mentioned on the web. Google Alert will help you get notified about the same. Create a Google Alert for your blog keywords or brand name, and you can receive instant notifications whenever they are mentioned on the web. You will get options like how many times Google should notify you; you can select region, time, and other factors for your notifications.
This tool helps in building a stronger brand image. All alerts that you will receive might not be significant. They may be from content aggregators too. But you will receive many important alerts too that you can't afford to miss.
If you want to embed interactive maps anywhere around the web, Google Maps is the easiest solution. You can use the Google Maps plugin for WordPress. They are very beautifully designed and allow you to create beautiful maps and put them on your WordPress blogging site.
There are innumerable things you can do using Google Maps in WordPress. It helps travel bloggers a lot. As a travel blogger, you can add interactive maps in WordPress with Google Maps.
Google Keep lets you capture your blog post ideas with voice, add pictures to your notes, keep track of your to-do list, and much more. This tool allows you to create, collaborate, and share your lists and notes with people. Synchronize it with your devices and have it wherever you go. In this way, your ideas will remain organized and in one place. You can quickly save your notes, audio notes, and pictures too. It will also automatically sync with your Google account and can be used from any other device with your Google account.
Typography is a significant factor for a blogger. Design and usability depend a lot on this factor. Fonts bring a lot of attention to your blog. Font styles have a huge impact on the overall aesthetics of blog posts. Google Fonts provides you with free fonts and templates that you may use in your blog. This tool allows you to download and apply these fonts, embed them to your blogs, and directly serve them. You can add them to your WordPress themes as well.
Google AdSense keeps you connected with advertisers. It is the fastest possible way for bloggers to generate advertising revenue. Google AdSense will help you in matching with the relevant advertisers for your blog niche and topics. It helps you get a better idea about the kind of ads that are effective and helps you to understand what you need to create for advertisement of your products and services. WordPress plugin for ad management can also add and manage Google ads on your blogging site.
Hangouts help you to connect with two or more people over calls. You can access Hangouts through Gmail (FYI: Google is transforming the Hangouts platform and integrating it into a separate segment on Gmail, known as Google Chat.) You can do voice calls, video calls, group calls, and messaging through Google Hangouts. It is the perfect go-to place for a conference call with business partners, colleagues, authors, running the webinar, or casual discussion with mates. You can also broadcast live conversations with the world through Hangouts Air. You may also add a Google Hangouts countdown in WordPress to make it look more exciting.
YouTube is not just your daily video hosting platform. YouTube currently also ranks as the second most popular search engine across the world, right next to Google. Millions of users every minute are looking for content on this platform. This is your greatest chance to enhance user engagement and impact your target audience more effectively.
As we all know, the video looks like a much more engaging form of content than text. So if you are a blogger on WordPress, it is best to convert your blog into a video, and upload your videos on YouTube rather than putting them in WordPress. You can add the link to your blogging site or actual blog post link in the description of your video. You may embed videos in WordPress too. There are excellent YouTube plugins for WordPress in the market that can turn your blog into an attractive and engaging website.
Think with Google is a useful tool that can provide you with various information, insights, and data. The 'Think with Google' tool is Google's solution to all 'data matters.' According to Google, it is a one-stop shop for all your knowledge. It helps in understanding industry trends, marketing insights, consumer manners, etc. Google's Think with Google has a huge amount of information under various categories like Research Library, Facts and Stats, Latest Insights, Planning Tools, and Thinking Ahead.
Additional tools you may use to make your blogging more efficient
---
Google Bookmarks
Google Bookmarks is a free online bookmarking service that any Google account holder can use. It enables you to save shortcuts to your favorite webpages allowing you to navigate to the saved pages within seconds.
Google Now
Google Now is another useful feature of Google Search available on the Google App for both Android and iOS. Google Now provides information to users and predicts information that a user may need. It comes in the form of informational cards. Google Now functionality has now been integrated in the Google App in its "Discover" tab.
Google News
A really useful news aggregator service from Google, Google News offers a continuous flow of articles and up-to-date news coverage, from various sources all across the world It is available as an app on Android, and iOS, as well as for the Web.
Google Translate
Google Translate is a super-useful tool for bloggers dealing with multilingual content. This free service from Google helps to to translate words, phrases, and even entire web pages from English to over 100 other languages and vice versa. The translations are quite accurate and are done almost instantaneously.
Google Groups
Google Groups is a great way to engage in community conversations for bloggers to understand target audience and user trends. It allows you to seamlessly create and participate in various online forums as well as email-based groups.
Benefits of the tools, and how to improve your blogging using them
Google blogging tools are very beneficial in a blogger's life. The tools help plan, save time, work efficiently, make improvements, create new content, and promote your blog to more audiences. As a blogger, you should be aware of these tools and their benefits in your blogging. They will help you a lot whether you are in the initial stage of blogging or an experienced blogger.
It is important to know how your blog is performing and how popular it is based on people searching for related topics or keywords. What is the frequency of your website or blog's mention in the search? Google Search Console helps you in knowing this. It allows you to understand the overall health of your blogging site. The more you use this tool, the better you get at your work. Similarly, other tools let you know the frequency or the trending keywords of the present. In this way, you can include the latest ones in your blog to reach out to a greater base of target audiences.
The more you use Google's Keyword Planner, the more improved your content's reach will be. It is important to know how many people are visiting you, what they are looking for, where they are from, and what they are most clicking on. Having a proper analysis of these things is beneficial. Google Analytics has all these advantages.
Google Sheets, Google Docs helps you keep track and list all your progress and ideas of content. Every tool has a unique advantage. Some tools will alert you of any important happening on your blog. You can keep all your backups of blogs using Google Drive. You can update the fonts and themes of your blog with the help of these tools.
It is important to use them correctly and at the perfect time. You should connect one Gmail account with all these tools for easy access. Link all your devices with one Gmail account so that you can comfortably work wherever you want. Access these tools whenever you need them, learn and improvise them on your website.
Final Words!
To conclude, Google blogging tools works like magic for content creators and bloggers. Google keeps on launching new blogging tools. Almost all of these mentioned tools are free of cost. They will help you to evolve as a blogger and flourish your business. Blogging is a great way to drive more traffic to your website, when the right amount of effort is put in and appropriate strategies and tools are utilized. Blogging tools can help your WordPress blog shine and get more popular. So, what are you waiting for? Dive into these great blogging tools by Google and keep growing.