Consider this: Do your readers care about what you're writing?
When it comes to satisfying their target audience, most content marketers fall short. Why? It's because they find it difficult to understand the reader's search intent.
Answers are fantastic, but only if you know what questions other people also ask for on Google. Every day, your audience asks Google thousands of questions. As a content marketing, it is your responsibility understand user intent and provide comprehensive answers to build trust and credibility.
Fortunately, Google people also ask feature can help.
People ask Google questions that they would never ask in a survey or on social media. Looking at these questions reveals a wealth of inspiration that can be used at any stage of the content creation process.
In this article, we'll discuss about:
People also ask boxes – Find out what questions your audience is asking Google
Google SERP is constantly changing. New elements and sections provide opportunities for increasing organic traffic to your business website and blog.
"People also ask," for example, is one of the most useful. It's a separate section on the results page that displays users' questions about the query. The questions people also ask in search results truly reveal the actual users' intent behind the search.
43% of SERPs have People also ask (PAA) boxes.

Ahrefs
"People also ask" box appears in more than 85% of searches.

Mozcast
In 2015, Google debuted a new feature. For every search question, users would now get a new snippet featuring other related questions, termed the "People Also Ask" box.
Of course, like any new UX addition, the value of the People Also Ask, or PAA box was only realized over time.
Until 2016, Google kept refining the PAA box. It underwent name changes from "People Also Ask" to "Related Queries" and back to "People Also Ask." It also underwent an interface change to include a short snippet from the featured website.
Today, the PAA box is of invaluable help to SEO and content strategists, who can use it to understand users' pain points. The location of the PAA box can also impact how and whether users click the links presented above and below it.
You might wonder how such a seemingly small change might affect user clicking patterns. In fact, you're not the only one. Various SEO research agencies have tried to understand the purpose and logic of the PAA algorithm.
At first glance, it seems Google developed the PAA box as a way to get users to eventually click on related ads. Of course, revenue isn't everything.
Google's PAA box works on a complex algorithm that aims to better understand user queries and is part of what makes Google the world's No. 1 search engine. Patented as "generating related questions for search queries" we might never know exactly how the PAA box works.
What we do know is that, based on the results we see, there are many ways on how to feature in people also ask, rank in people also ask, and eventually benefit from the clicks!
Read on to find out more about the Google's people also ask related questions and how to optimize for people also ask.
What is the Google People also ask (PAA) box in SERPs ?
The "People Also Ask" box aimed to help people in their search journey. It typically does not include the answer to the query itself, but rather provides leads for users to follow up on.
By 2017, the people also asked box was a solidly developed feature that appeared in 85% of search results. It usually has four leading questions and moves around the page.
Unlike the People Also Search For (PASF) box, which only reveals itself after returning to the query from the site, the People also ask box is a permanent feature that expands to offer answers to the questions clicked on.
However, once you click on a question to expand it, more questions appear below it. The total number of questions can thus grow to absurd lengths (Britney Muller reached a count of 200 questions!). This lengthening spiral pushes down organic results, and thus featuring in People also ask for box is becoming increasingly important to stay relevant.
The questions asked in the People also ask boxes have some common features. They are typically:
Short questions
Have a direct relation to the search query
Offers a direct answer to the search query
Have a snippet of not more than 50 words
Begin with words like "What", "How", "Who", etc.
Thus, to optimize and rank in the "People also ask" search feature, you must understand search trends and include commonly asked questions in your content.
An interesting fact is that the People Also Ask box only shows the snippet, without including the context of the rest of the article. As a result, a page can still be included while dealing with a different context, as long as the writers included the appropriate target words. After all, Google is a search engine and not a person!
How Google's people also ask tool can help you with your SEO content marketing?
Before we understand people also ask intent, and how to optimize people also asked questions for content marketing, let's understand some important features surrounding it.
What does the PAA box include?
The PAA box contains common leading queries (what users might search for next after their initial query). It can feature anything from videos, images, and articles to paid advertisements. It typically contains short questions with direct answers in the snippet.
After which search result is the PAA box found?
This varies based on the search. Typically, it may be present anywhere after the first 2 results to between the 10th result. As mentioned before, the position of the PAA box depends on the query asked. It also does not appear for every query. The position may vary based on whether you are browsing on desktop or mobile with PAA appearing higher on the latter.
How does the position of the PAA box affect a webpage ranking?
A study by Moz showed that for a particular result, the number of clicks reduced after a Featured Snippet was located directly above the result. However, once the snippet moved, the clicks evened out again.
Similarly, the expansion of the People Also Ask box upon clicking on a question can affect the clicks on the results below. This is certainly where experimentation and risk-taking could help determine what works best for your site.
Sometimes, the People Also Ask box can feature synchronously with the top carousel, Featured snippets, or Top Stories box, which may further affect the user clicks.
How to rank in people also ask boxes?
Now that you know how the PAA box works, let's talk about how to rank in people also ask. Based on what the PAA tool usually features and the parameters it includes, you need to
1. Find What People are Looking For
Finding common related queries and next questions is equivalent to using a tool like Moz, Semrush or Ahrefs for finding users' common queries. Only, here, Google tells you the common questions themselves.
In fact, a lot of tools used to find commonly asked questions (like Answer The Public) rely on sifting through Google results themselves (as Google's algorithm is patented). Hence, a close study can reveal what your target keywords and FAQs should be.
2. Include Them in your content
Google results have always preferred well-structured websites and content. It makes it easy for the search engine to sift through results and follow breadcrumbs. The PAA tool heavily relies on pages that follow a question-answer style format. Moreover, since the snippers are short, providing a comprehensive answer, introduction or conclusion is important. An expanded body can then explain more and include the keywords.
3. Follow Website Categorization
While structuring and categorization are essential aspects of content organization, it's advisable to adhere to fundamental categories like products, services, and commodities instead of delving into highly specific niche categories. This approach broadens the scope of your content, allowing it to encompass a wider range of search queries and enhancing its visibility.
4. Enhance The Experience With Audio-Visuals
Google's PAA tool now includes images and video snippets as well. While including these, make sure you add relevant tags and metadata. For videos, Google often shows a short relevant segment only. Hence, timestamping videos with relevant headings is important.
5. Always remember SEO Basics
While incorporating these strategies, it's crucial to adhere to fundamental SEO principles. Conduct thorough keyword research, incorporating both primary and long-tail keywords into your content. Google's search algorithm also places significant emphasis on a website's credibility and trustworthiness.
Examples of people also ask boxes in Google SERP
Adding People Also Ask (PAA) to Google's search results offers an opportunity for your content to stand out more. Let's see how.
Here's the Google search engine result page we get for the query "what is an nft".
While Forbes.com is listed below the PAA box, if you choose to expand on the first PAA question, it features an excerpt from Forbes as well. Thus, Forbes gets a double representation on Google's 1st page!
Another example is, that if a user clicks on a question, the PAA box expands to include more questions at the bottom. Here, we see Fortunebuilders.com being featured on the question that appeared after.
Fortunebuilders.com does not feature on Google's 1st-page result in and by itself, however, the PAA tool offers it an opportunity to do so!
A potential downside to this is that since answers are provided on the Google SERP itself, users may choose to not visit the site ahead. This is known as a no-click or zero click search. Here is an example of how a search yields a full result on the snippet itself.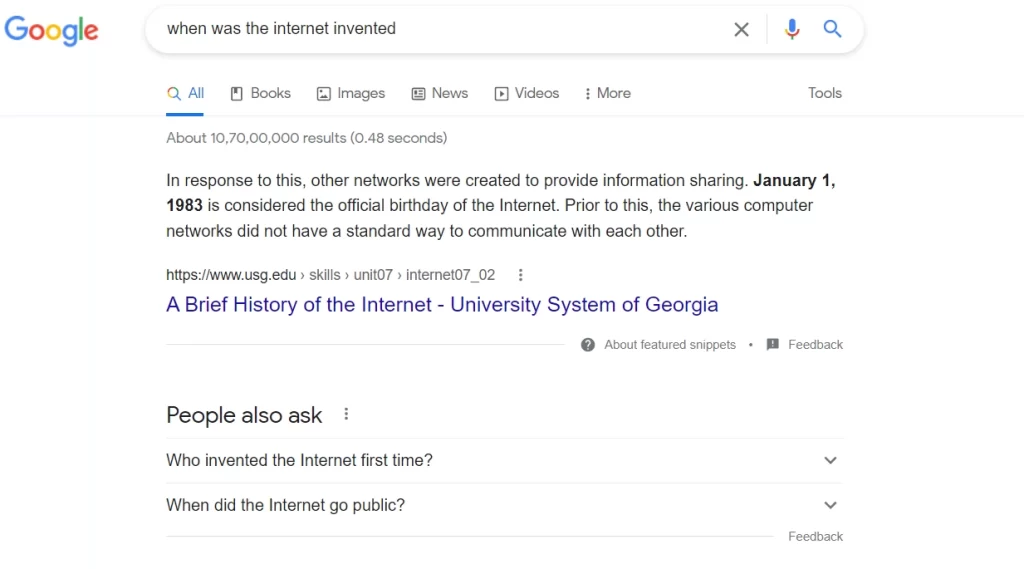 To avoid this, you can include a short answer, along with a lengthier explanation. As Google features the paragraph, an appropriate cliffhanger can lead to the person investigating the site, as seen here:
A timeline of Google's people also ask (PAA) box updates
Like every small feature introduced by Google, the People Also Asked tool underwent multiple iterations since its inception.
| | |
| --- | --- |
| 2015 | Google first introduced the People Also Ask toolbox that featured up to 4 questions. Back then, it was a trial feature and was eventually renamed the Related Questions box. |
| 2016 | Google allowed short snippets to be seen within the PAA box itself. This is also when people began to realize the box's potential for SEO marketing and ranking. |
| 2017 | Studies were conducted by various SEO agencies (notably STAT) to better understand the PAA tool. This is also when it typically began featuring more than just 4 questions and started expanding to add 2-3 more questions with every click. |
| 2020 | PAA boxes started appearing within Google's knowledge panel as well. |
The feature is still constantly being refined with related search queries now featuring under every question. It will be interesting to see how the feature develops in the next 5 years and how it would affect people using its data for content and SEO strategizing!
Best tools for researching Google's people also ask intent
It can be exhausting to cycle through the various people also asked questions and their results. This is where you can use a variety of tools to effectively check the results of multiple "people also ask" questions, compare them, and find the best target keywords. Here are some useful tools:
1. Outranking.io – Free PAA data and AI writer combined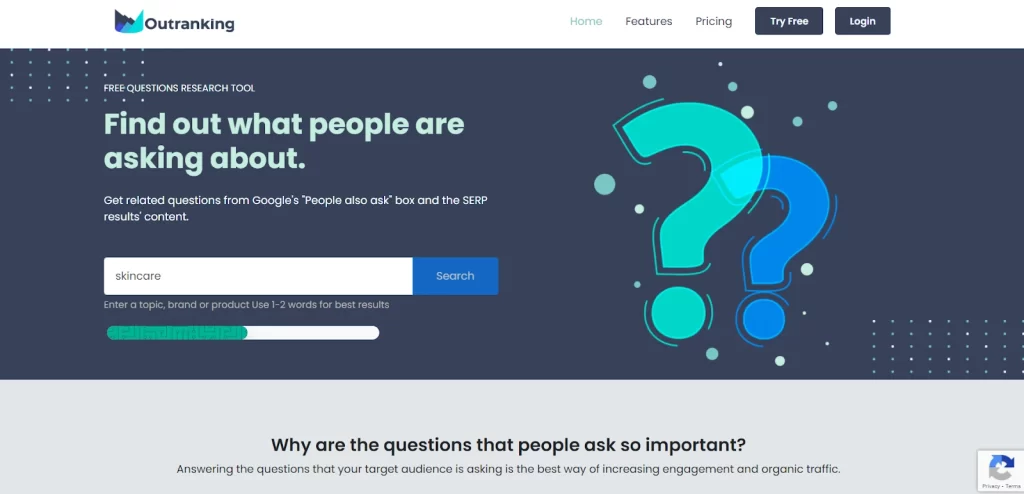 Outranking.io focuses on helping one find three key things – content ideas, finding user intent, and looking at competitor questions. The site is free to use, with a paid version. It also goes a step further to help you write your blog title and outline. Outranking.io comes with an AI wizard that collects facts from top pages, checks out basic SEO scores, checks content tone, and contains templates for common types of writing workflows like media releases, long blogs, etc.
It uses Google's top search results and also takes into consideration the expanded People Also Ask tool. On the whole, it generates a list of keywords for further searches, common questions, and top SERP results so you can get a fuller idea of what people are looking for. Moreover, you can choose to filter these results using question starters like why, where, who, etc. For related keywords, you receive a volume count, competition level, and CPC.
How to Use?
Visit the Outranking.io website
Enter the keywords you want to look up in their search bar
Receive results on the page, divided by starting words, relevant searches, and more
With the paid plan, you can import this data into the writing system and get further suggestions like Google NLP terms, SERP and competitor analysis, and more.
Pricing
Outranking.io offers a 30-day money-back guarantee for dissatisfied customers.
Free – 2000 characters of AI writing, free access to PAA data, AI outline builder for 4 documents

Mega Plan at $40 per month – Meant for individuals, this plan allows one to create up to 10 documents and make up to 50 searches a month. It assigns a total of 300,000 AI Credits per month for document writing.

Giga Plan at $82 per month – Supporting 1 team and up to 150 searches, this plan allows the writing of 25 documents and assigns 1,000,000 AI Credits per month

Tera Plan at $157 per month – For up to 3 teams and 400 search results. You can edit up to 50 documents with 2,500,000 AI Credits per month

Enterprise Plan – customized as needed
2. Frase.io
Containing both a PAA search tool and document builder, Frase.io is a top tool that comes with its own SEO add-on. You can use it to find the most relevant searches and questions for a specific keyword and then include them on your site. Similar to Outranking, Frase.io offers a free trial but you need to sign in to use it.
As of now, Frase.io does not offer data importing or exporting. After generating the results, you can simply copy-paste them onto your document or Frase.io's own outline builder. For generating auto-content, Frase.io has its own patented AI tool.
Frase.io focuses on generating the top relevant results and as such, offers limited data with the free plan. However, it's great for finding relevant titles to write on. Moreover, if your site is already ranking within the top 10 results for any specific area, you can use Frase.io to find FAQs and double rank using the PAA tool as well!
How to Use?
Visit the Frase.io website
Start your free trial by creating an account and signing in
Enter the keywords you are looking for
If you are looking for titles, use the AI generator and set a creativity level
Get the results and copy them using the copy icon
Pricing
Basic Plan at $44.99 per month – This is meant for individuals and offers up to 30 Document Credits

Team Plan at $114.99 per month – For 3 teams and unlimited document credits

Enterprise Plan – customized as needed
3. AlsoAsked – Best PAA data for article writing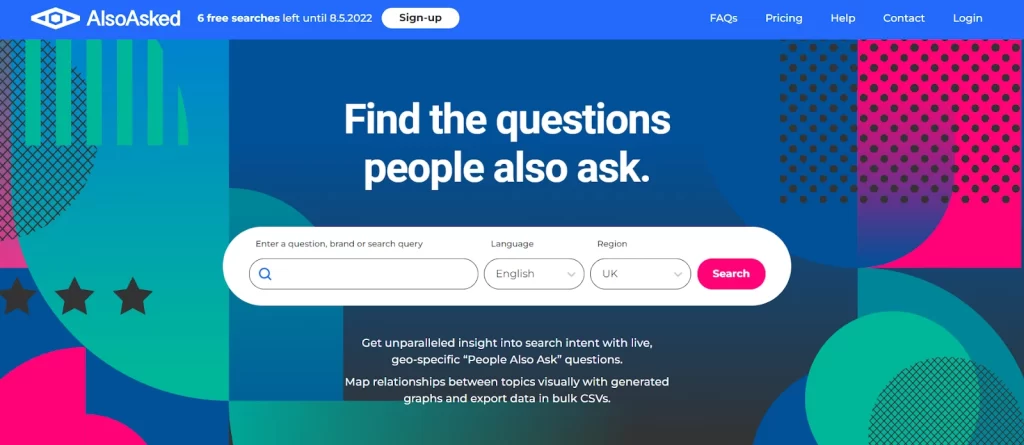 With 10 free searches a month, AlsoAsked is a great tool for finding PAA keywords and sorting them by language and country. The results are displayed using an interesting infographic that makes identifying the parent term and sub-terms easier. For every sub-term, you can click on the "+" sign to generate more sub-topics.
This type of breakdown also guides writers in creating outlines and headers. In the free version, this data can be saved as a PNG. With a Lite account at least, you can export it in CSV format. Moreover, AlsoAsked looks for the most relevant questions and sorts them based on the starting word – why, how, where, etc. Similar questions are filtered out so that every result is unique and worth targeting. Framed as comprehensive questions, AlsoAsked is a great way to ensure that your site covers all the user's FAQs.
Unlike the above two tools, AlsoAsked focuses only on providing People Also Asked data and is hence, a much more streamlined tool for use.
How to Use?
Visit the AlsoAsked website.
Enter your search term, select the region and language of your choice
The results will appear as an infographic
You can choose to expand as and where needed
The result can be saved as a PNG or CSV file
Pricing
Free Plan – 10 searches per month and PNG exports only

Basic Plan at $15 per month – 100 searches and a 24-hour search history access. This too allows saving the infographic as a PNG only.

Lite Plan at $29 per month – Up to 300 searches with 1 month of search history and both PNG and CSV exports.

Pro Plan at $59 per month – 1,000 searches with 1-year search history and same features as above. The team is currently working on an API key access which will be available with this plan.
4. Search Response – The best Freemium people also ask tool
Search Response is a tool that offers both PAA and PASF data. If you're looking for more sites to get PASF data, check out our other article for the same. As for their People Also Asked data, Search Response offers even more features by allowing users to sort via topic, domain, and URL. Further filters include location.
As far as finding the top questions to target go, there's no better free tool than Search Response. Being in its BETA version, the tool is still being refined with new iterations. The search yields the relevant questions which can be filtered as branded or non-branded data, date-based sorting, and popularity. All these search results are trials and the team is aiming to find which type of filters are the most useful for sites. If you're looking for PAA data for free, Search Response is a great tool to support.
How to Use?
Log on to the Search Response website
Enter the search term under Topic along with the location
Results for both PAA and PASF are displayed
You can further sort this using the filters
The data can be saved as a CSV file
Pricing
As of now, the tool is free to use. You can create an account to keep track of your past searches or search without an account.
5. QuestionDB
Similar to Search Response, QuestionDB offers both PAA and PASF data for free, with some added benefits with a paid pack. With the free version, you can use QuestionDB to find all the relevant, non-repetitive results for expanded PAA. It also lists the target keywords for each in a separate segment.
The free version has no bar on the number of searches you can perform. The data can be saved as a CSV file or copy-pasted onto a document. They also have their own blog that best details how QuestionDB can help bloggers with creating the best content! Free users will certainly miss out on stats like PPC, Competition value, and so on. However, for individual writers, the long People Also Asked question list can be invaluable as well!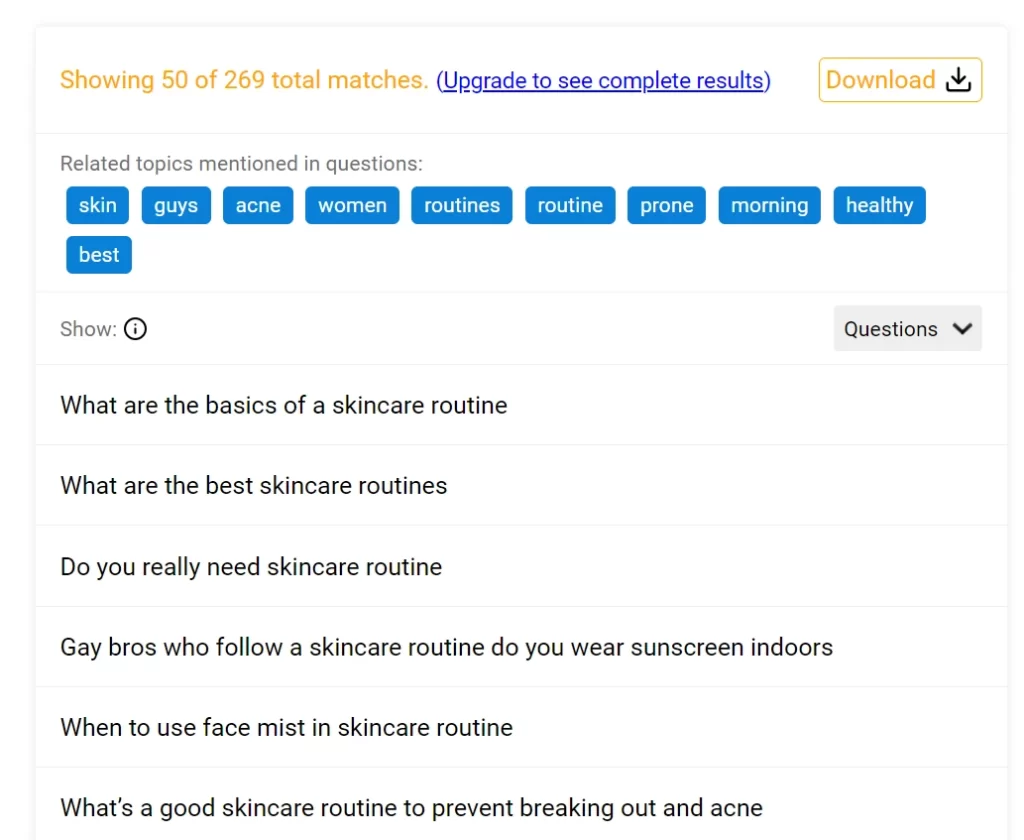 How to Use?
Visit the QuestionDB website
Enter the topic or keywords you want to look for
The generated list shows the top 50 results for both questions and phrases
You can upgrade to see the entire result list, or simply download the questions as a CSV
Pricing
Free – Top 50 results for each search and ads on the page

Pro Plan at $15 per month – Up to 500 searches per month and full access to results. Ads are removed.

Agency Plan at $50 per month – Up to 5,000 searches and the same features as above.
Got questions?
How do I use the data found on PAA box?
Use PAA box to find the top questions that Google prioritizes in its answer boxes. Including these questions with a direct answer in your content will increase your chances of appearing in those boxes.
How can I rank within the people also ask search feature?
To increase your chances of appearing in PAA snippets, ensure your content provides direct answers to user queries and maintains a high trust score. While PAA can showcase 2nd-page results, it prioritizes content from trustworthy sources. Boost your chances of appearing in both SERPs and PAA box by addressing PAA questions and building trust score.
How do PAA and PASF differ?
PASF (People Also Search For) suggests similar terms or phrases that users might be interested in, sometimes leading them to a completely different topic. PAA (People Also Ask), on the other hand, presents questions that people often ask related to the same search query. It's Google's way of anticipating the type of information you might be seeking next.
Do the PAA questions follow any specific format?
PAA snippets can be in any form ranging from a paragraph to a table to a video. The important thing here is that the content is quotable, comprehensive and directly answers the question. 
Can I control where the PAA tool appears on a page?
No, this varies from search to search and is not in the user or site owner's control.
Where do the answers for people also ask box come from?
Each answer in the "People Also Ask" section comes from a website page that you can click on to learn more. Answers come in different ways. They can be comprised of paragraphs, lists, tables, pictures, and even videos sometimes.
The list of questions seems to be never-ending. If you click on a certain question, the list will grow to include even more questions that are similar.
Final words,
Appearing in the People Also Ask (PAA) box depends heavily on a website's ability to provide relevant and concise answers. With the increasing popularity of voice-activated assistants, providing quotable data is becoming even more crucial. Voice searches often prioritize websites that directly and efficiently answer user queries, making them ideal for assistants to relay information.
By strategically utilizing PAA questions, businesses can effectively guide users to their content in a natural and organic manner.