Despite the benefits of being a SEO content writer, it also carries its challenges. For example, understanding topics that they have never heard about, demonstrating creativity in your SEO content writing are among the challenges. While writing SEO content, writers face several challenges. Anything without challenges is boring because challenges mould and train us. Although some challenges can drain us, it is a good idea to ask for help when we encounter them.
As you might expect, the problem is not with the industry itself. There is a problem with our approach. Sorry but yes, It is the content writers who are to blame for the problem.
We set daily goals in terms of SEO content writing, be it web content, landing pages, blogs, product descriptions, sales pages, social media postings, slogans, and using SEO tools to ensure that the output is relevant and can bring visitors to a business website, etc. SEO content writing is not an easy task; it requires specialized knowledge and skill sets. There are several challenges content writers face while creating unpredictable SEO content. To become a better SEO content writer, you need time and effort.
Listed below are some of the major challenges that writers encounter when creating SEO friendly content, and how Semrush content marketing suite comes to the rescue by completely changing your writing routine and hiccups!
1. Research, research, and even more research
Writing great content requires you to know your subject inside out, upside down, and from every angle. Almost every content writer understands precisely how a domain or two works. Nonetheless, as a content writer you will encounter hundreds of projects that require content from areas you were unaware existed. In order to tackle such challenges successfully, it is imperative to conduct thorough research and put in-depth resources so as to deliver a well-prepared and statistically accurate piece of content. You must remember this to leave a lasting impression on your reader, as well as your client.
Pro Tip: It's your friend, the Internet. No doubt! You will probably find dozens of websites and/or articles written by other writers that can provide great insight into almost any topic you choose. YouTube is another option. There are many videos available online that can give you a clear explanation of the topic simply by searching for it.
In addition, you can read comments and reviews from other users. These are widely available on virtually every website, social media platform, and online forum, and provide an excellent way to find out how people feel about any given topic or product.
SEO Review Tools Content Analysis to the Rescue!
Content Analysis from SEO Review Tools comes with both – an optimization content and a keyword research tool. The keyword research tool can be effective in helping you find related suggestions that you can further Google into.
Here is a quick rundown of SEO Review Tools Content Analysis:
The keyword research tool provides volumetric usage over the past 12 months. It also offers further suggestions for segments like News, Commerce, YouTube, and more.
These are segregated based on their search volume and ranking. For any keyword, you can check out further related keywords.
The optimization tool offers an overall score and checks whether your text follows SEO guidelines. This includes headers, images, metadata, and more.
You can log in to save your document and its formatting and revisit it anytime.
2. Limitations on content creativity
As a seo content writer, you may also face restrictions on creativity. Whenever a client or a website hires a writer for seo content writing, they expect the writer to supply content that suits their business needs. Therefore, professional content writers find that they have limited scope for creativity, sometimes to their dismay.
3. Lack of Ideas
Even though you're certain you could write an article, you have no ideas of what you should write about. All of us experience it from time to time, but the good news is that there is a way to deal with it. Below are some ways on how to get writing ideas.
Take time to observe nature. You can get some of your best ideas observing trees around you, your dog, or anything else in nature.
Read whatever you can get your hands on (good, of course). You'll never run out of ideas if you read. Count on anything coming your way as an opportunity to learn something new that can enhance your writing.
Do your homework before writing. You can spark your own ideas by using Google, social media sites, and websites.
Identify content topics: As strange as it sounds, the SEO content writing process begins even before you start writing. The reason is you need to write content that your target audience cares about if you want to be successful with SEO and content marketing.
Text Optimizer to the Rescue!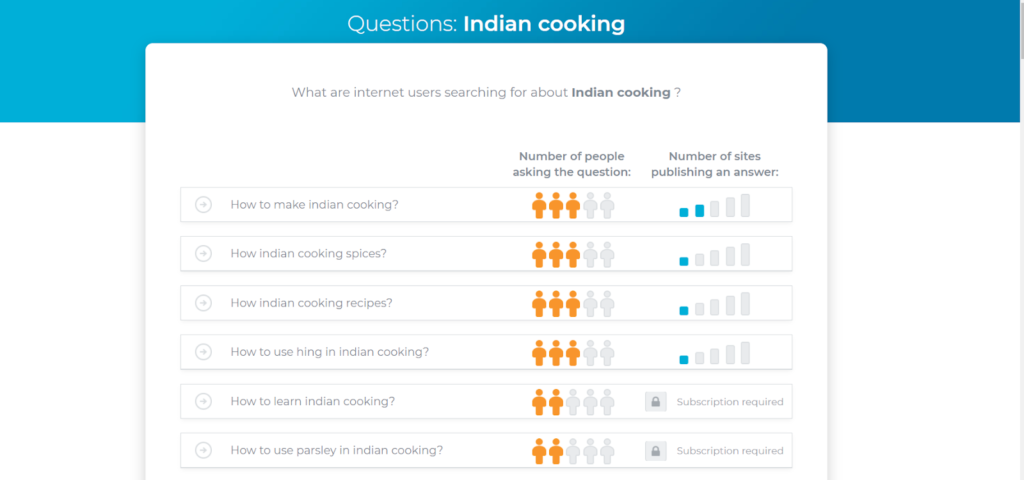 Text Optimizer allows you to generate content ideas based on a specific keyword and see the current search trends related to it. You can further zero in on any one topic header and find more related keywords.
Here is a quick rundown of Text Optimizer Content Ideas:
Text Optimizer offers content ideas and optimizations for both Google and Bing. You can choose which search engineer you are targeting and then go ahead. You can also set your target audience location to get more niche results.
Based on the keyword, Text Optimizer generates top searched topics based on rank and traffic.
Any 1 topic can be further analyzed for related keywords.
You can also analyze an existing piece of content from the internet to find their target keywords.
4. Title/Headline Trouble
This is likely a situation you have already encountered. You have written your piece, but the title is blank at the top. Despite staring at it for such a long time, the ideas just don't come.
You don't need to worry. Even when you run out of title suggestions, there is an easy fix.
Focus on your research instead of staring. There are probably already masterpieces written on your topic, or a similar topic. Learn about their content and use it to inspire ideas for your own titles. If you want to become more productive and to get ideas more quickly, you can create a knowledge bank. Ask team members which title they believe is best after coming up with two or three options. It is always better to have more than one opinion.
Semrush Topic Research to the Rescue!
If you do not know where to start, Semrush topic research tool will lift off the burden. All you have to do is click on topic research, and enter your topic or domain to find content on. Semrush will analyze your rivals' content and give you ideas to write winning content by organizing them in the following manner as Cards, Explorer, Overview & Mindmap view :
Volume : You will get a list of most searched keywords
Difficulty: Ranking for a highly competitive keyword will be difficult. Semrush will show the keyword difficulty, so, you may choose a less competitive keyword
Title/Headlines: Semrush will give you a list of headlines that will make your topic research easier and come up with well thought out Title variations for your piece.
Frequently Asked Questions : It is always a good idea to address the real problems faced by people. Semrush shows a list of questions asked by people around the world on a particular topic. Answering this will help you make your content more relatable to your target audience. Also, this helps one get listed on the SERP feature snippets.
Related Searches and Phrases (LSI keywords): Keywords associated with your content's topic are known as LSI keywords. LSI keywords can boost your SEO.
There are two main reasons why LSI keywords are beneficial: First, LSI keywords help Google better understand the topic of your page. Second, when you use LSI terms, you won't only rank for your target terms… but also for their related terms.
You can also filter the trending subtopics first for a particular topic.
5. Readability
The challenge of ensuring readability is crucial to seo content writing. Some writers tend to wander off from the core objective of the content subject when they are carried away by their thoughts and ideas. Occasionally, writers demonstrate their language proficiency by using complicated or uncommon terms, which may hinder the content's readable quality.
Developing readable content: You can enhance your content's readability by following these tips:
Prepare captivating introductions for your copies. Make sure your readers are hooked from the beginning.
Make sure your paragraphs are short, your headings are clear, and your graphics are appropriate.
For increased proficiency in writing, you can take courses on content writing.
Use language that your readers can understand, as if you were speaking to them. Choose mindful words and make catchy headings. Refrain from being repetitive.
Semrush SEO Writing Assistant to the Rescue!
Semrush SEO Writing Assistance checks if your texts follow the best SEO recommendations, and that too in real time. You can also check your content readability score along with any potential title & content issues.
Here the quick rundown of Semrush SEO Writing Assistant:
Uses the Flesch reading-ease score formula. For English, this formula is shown below. For German, French, Spanish, Italian and Dutch, coefficients differ.
Checks for content originality to avoid any potential plagiarism issues
Tone of voice of your writing, including the choice of words, their order, rhythm, and pace. If chosen carefully, tone of voice would build trust and set the business apart from the competitors.
As you type, your content is automatically checked for SEO-friendliness based on your target keywords.
Available as Google Docs extension
Copywritely Readability Checker to the Rescue!
A completely free and online readability checker, Copywritely quickly assesses your text for grammar, uniqueness, and keyword stuffing. The free version can be used for up to 2,500 words.
Here is a quick rundown of Copywritely Readability Assistant:
Checks for plagiarism across the internet.
Look for grammatical errors and keyword stuffing.
An overall readability score is assigned. Copywritely also identifies the issues for each so that you can edit them; however this feature is only available in a paid plan.
The paid version also offers an Article Rewriter that automates the rewriting process and helps take some strain off your fingers.
6. Combining creativity with SEO
Understanding your clients' or your audiences' needs is key. By using an SEO strategy, you can provide solutions to your target audience's problems. Therefore, while you are striving for creativity, make sure your content complies with SEO objectives.
I won't go into all the details of optimizing your content here; that's a whole other guide. As a quick refresher, here's what you need to do to optimize your web content:
It's best to do keyword research before you begin writing an article if you hope to generate traffic from search engines. Therefore, you can write toward areas (or small keyword niches!) where a large quantity of search traffic already exists – in other words, focus on topics (or keywords!) that already have a lot of search traffic.
Optimize your content for maximum searchability by using keywords strategically. The SEOMoz On Page Optimization Guide is a great resource to begin with.
Organizing your content logically is essential. The technique not only improves SEO, but it also enables your visitors to easily find other content that is related. This in turn, increases the length of time visitors stay on your site.
Surfer SEO Content Editor to the Rescue!
SurferSEO's content editor is a real-time checker that does most of the heavy lifting for you. Not only does it offer the best keywords to use – and the best number of times to use them – it also scores your content!
Here is a quick rundown of Surfer SEO Content Editor:
Use the Flesch reading-ease score formula to rate your content out of 100. It also takes into account whether enough headers and images are added onto the text to break text walls.
Provides keywords along with a recommended number of usages. For each keyword, they offer examples of use from across the internet.
Surfer SEO can also help you with structuring your content by offering potential FAQs people ask on the given heading.
The Outline Builder suggests the ideal number of headings, subheadings, and H1 titles the article should have.
The best feature is that Surfer SEO offers 3 top competitor pages that you can look at to further develop your content.
On the whole, Surfer SEO allows one the benefits of an on-page optimization guide while leaving loads of scope for creatively discussing various topics.
7. Unknown Topics to Write About
SEO content writing can be challenging at times, especially when you have no background knowledge of the subject matter. This may cause difficulties in understanding the information and creating the content. Moreover, you may be limited by your own time.
It is quite common for me to face such challenges as a technical writer. The following points can help you confront these challenges:
Research findings from multiple sources available on the web
Obtain more information by watching videos if no theoretical material is available
To better understand research material, take help from others
Link Assistant SEO Content Editor to the Rescue!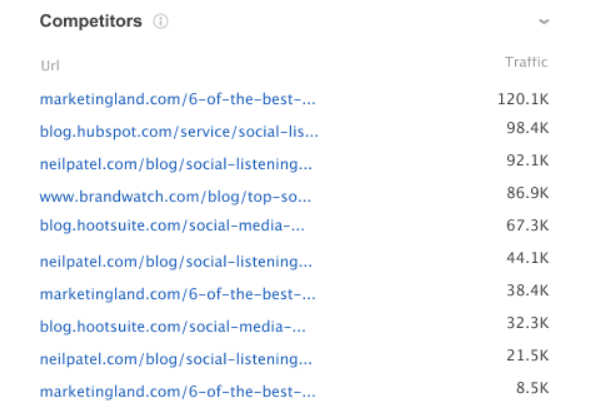 While essentially a content editor, Link Assistant can also be quite helpful when you're working on a topic you know little about. This is because Link Assistant offers top keywords, trending FAQs, competitor pages, and "topics to cover". On the whole, it pretty much gives one all the things they should look for on an unknown topic.
Here is a quick rundown of Link Assistant SEO Content Editor:
List of top competitor sites and their traffic volume. You can refer to these pages to find more about the topic. Link Assistant goes one step ahead and helps you analyze what your competitor's target keywords were.
An overall optimization score and helpful SEO tips to increase it.
The topics and questions segment essentially lists the related questions (to the topic) that people are searching for. You can use it to understand the topic further and then write accordingly!
Link Assistant SEO Content Editor offers the benefit of being an optimization and structuring tool. It can help you identify what both you and the reader won't know about a new topic.
8. Getting over writer's block
The problem of writer's block or misery block is when writers cannot express themselves or feel depressed for not creating relevant, informative, and engaging content. Usually, these feelings of negativity are caused by past failures and criticism. All content writers have to deal with this issue. The important part is how you handle it.
Freewrite to improve your skills. The process assists you in improving your thinking skills. For increased writing skills, it is recommended that writers develop a prompt writing strategy.
You can listen to music
Enjoy nature by taking a walk
Brainstorm possible ideas
Make reading a habit
Distractions must be avoided
Feel good by spending time with people you like
Dashword Content Brief Builder to the Rescue!
A brief builder essentially helps one to structure their text. But in the case of Dashword, it's so much more. Dashword actively finds the top-performing pages, FAQs, keywords, and even sub-headers that you should be looking at.
Here's how it can help you overcome your writer's block
If you have a keyword idea, Dashword helps you find further related ideas. If you do not have any idea at all, you can use Dashword to identify the top-trending terms and look at them. Thus, you will never run into a wall when it comes to topics.
For each content idea, Dashword offers a unique UI that draws from competitors to create the best content structure.
You can arrange headers and sub-headers, and drag and drop FAQs under them.
The final brief can be easily shared with a team.
They also offer an optimization tool that you can use to SEO-check your text before publishing it online.
9. Content that is poorly structured
Even though writing down everything that comes to mind can make for great content, most of the time it ends up poorly structured. How you put ideas together will determine if your text is readable. The structure of your blog determines its quality, and it may be problematic if you are new to blogging.
The outline can be your best friend if this happens way too often. Stay organized by creating a simple blueprint before writing your content. Start by writing down the main points you want to be sure to include in the content.
Semrush SEO Content Template to the Rescue
Semrush SEO Content Template helps you create well-crafted SEO-friendly content templates by analyzing your rivals' content and give you ideas to write a winning optimized content. You just have to enter keywords that you want to target with your content. Semrush will analyze content based on Google's top 10-ranking pages for your target keywords, and provide recommendations on how to create SEO-friendly content. Voila!
What you can achieve with Semrush SEO Content Template?
Enrich your text with semantically related words.
You can try to acquire backlinks from suggested domains
Average readability score of your top 10 competitor URLs
Recommended text length of your content
See how your competitors use your target keywords (occurrences)
Export to DOC
and much more
UseTopic Content Template to the Rescue!
Creating a comprehensive outline can be tough work. Which is why UseTopic's AI is such a great tool for anyone looking to structure their article. You can enter the keywords you want to focus on, and immediately receive related FAQs, searches, sub-headers, and more. One can also further supplement their work using the UseTopic Content Grader.
What can you achieve with UseTopic Outline Builder?
By looking at the top 30 SERP results, UseTopic offers the most relevant list of headers, sub-headers, FAQs, and topic ideas.
You can create a shareable outline that can be sent to a content writer. Once done, the Content Grader checks how many of the suggestions have been incorporated.
Get information on recommended length, avoid keyword stuffing, acquire backlinks and optimize your content.
10. Content promotion
To make your SEO content writing successful, you need to actively promote it (for example, by posting it on Medium and other websites where it can reach a wider audience), and make new content more visible by sharing it on social networks and attracting links from external websites.
Semrush Content Audit/Post Tracking to the Rescue!
Just by entering your domain and or post URL you would be able to visualize:
The amount of referral traffic that comes to your content from a given article since its publication date.
The number of keywords your content is ranking in Google top 100
Estimated number of people that could have seen your content
Total number of Facebook and Twitter shares
Total number of backlinks your content has acquired.
Dashword Content Monitoring to the Rescue!
With content monitoring, you can track how each of your pages has been performing. Over time, as search trends change, the content score of a previously well-scored page can also go down. Dashword content monitoring keeps track of this and more.
It actively identifies pages that are not performing as well as their contemporaries.
Keyword reports and generated weekly – so that as trends change you can keep updating your blogs.
Dashword mainly uses rank tracking to identify low-performing pages. You can rely on daily and hourly graphs to track visitors and time spent.
In Conclusion,
Throughout this article, we've presented general problems and challenges content writers encounter when they start their SEO content writing journey, along with useful tips for dealing with them more quickly and efficiently. Also we have explored how a SEO content writer can address these issues, and figure out how to fix them with SEO writing assistants.
While writing optimized content, we have faced many challenges, did our fair share of mistakes and finally able to overcome it with the help of Semrush SEO Writing Assistant and SurferSEO Content Editor. These toolset have dramatically changed our content writing routine and overcome the challenges including but not limited to topic research, content planning, keyword analysis, SEO recommendations, social engagement, link acquisition.
They have always helped us to tailor content to our audience's needs, and ensure our content will have a positive impact. A couple of seconds is all it takes to do what might normally take us 10-15 minutes. The above mentioned SEO writing assistants are useful when grading our content.
Love these toolsets! What about you?